Various/Varios: Elizabeth Ross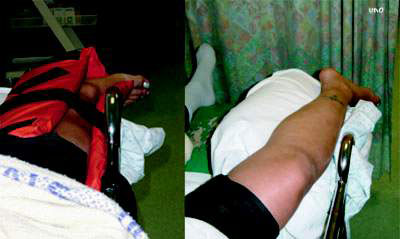 Elizabeth Ross
México
1 / 5

Title
From the series: Autobiography: Tumbling down in London

|

Título
De la serie
Autobiografía: meter la pata en Londres.

Technique
Digital camera, Sony dsc-p1./

|

Técnica
Cámara digital Sony dsc-p1

Comments
A testimony of a broken leg caused by curiosity and the poor design of a pair of Vivienne Westwood shoes which produced 10 days in the hospital, an operation, a month bound in a wheelchair in London and the expansion of my
life's experience. These photos would not have come to be had I not had a digital camera in my hands.
October 2002.

|

Comentarios
Testimonio visual de la fractura de tibia y peroné causado por la curiosidad y el mal diseño de unos zapatos de Vivienne Westwood, que produjeron 10 días de hospital, operación, un mes en Londres en silla de ruedas y la ampliación de mi experiencia de vida. Estas fotos no hubieran existido sin la cámara digital en mis manos.
Octubre 2002.
e-mail: lunaross101@hotmail.com
http//:www.elizabethrossmx.com
All Rights Reserved, 2003. ZoneZero Inc.