Introduction by Esther Angélica Villareal Espino Barros.
-author´s grand daughter-
Eugenio Espino Barros y Rebouche. was born on October 10th, 1883. in #5 San Martin Street in, Puebla de los Angeles, México He was the seventh in a family of nine children. His father, Manuel Maria Espino Barros y Cosio, was born in Minatitlán, Veracruz, and mother, Maria Rebouche y Raymond, was born in Mexico City of French parents. After high school, Eugenio Espino studied drawing at the Academy in Puebla. At the age of sixteen he built his first camera, using cardboard and using the lenses from binoculars as his camera lens.
A year later, in 1900, he traveled around the states of Puebla and Veracruz as the assistant to an American photographer who paid for his meals but gave him no salary. But he let my grand father use his 8 x 10 camera. They traveled around photographing the villages, the people and the parties. After one year, Eugenio Espino Barros was forced to return to Puebla with malaria. It forced him to terminate his relationship with his teacher.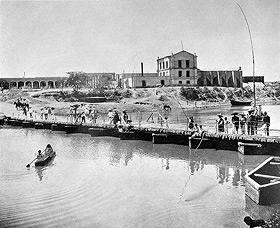 Briseñas Hacienda, State of Veracruz
Searching for new opportunities, he went to live to Mexico City until he found a job at Buenavista Railroad Station. He did not like his jobs but it gave him the opportunity at night to build his own 8 x 10 camera with the help of his older brother, José. As our family tells the story; after a month of working well into the night the camera was finally finished. It was made of mahogany wood and brass. He worked with wet plates and made his emulsion.
Throughout his life he worked alone, formally preparing each image the developing and touching up the negatives as well as printing the photographs. The first time he used his new camera was to take a group photograph of railroad workers. They were so happy with their photographs that they began to bring their families to have their portraits taken. So on Saturdays he began working as a photographer. Within, five months he was able to leave his job at the railroad station and devote himself to his photography.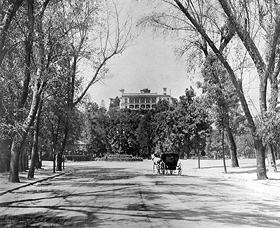 Chapultepec Castle, México City
In 1908, Eugenio had the idea of making a book México looking at México in the Centenary of its Independence. He talked to some wealthy people with the intention that they might support his project. A society was formed to have the book made. That wasn't an easy task because of the circumstances of the country in those years was immersed in turmoil before the revolution and means of communication were poor.
To take the photographs for the book, he traveled with several boxes of heavy photographic equipment, besides the cameras, lenses and tripod, he carried all the necessary to equipment and materials to develop his negatives and supplies for his glass plates. The plates were perfectly wrapped in cloth and were kept in a wooden box so they wouldn't brake during his journey along the long and winding country roads.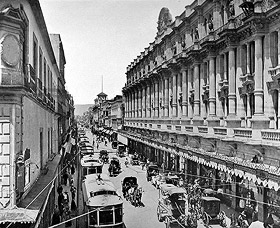 16 de Septiembre Avenue, Mexico City
To be sure that the images he took each day were of good quality, before moving on, he would develop his plates during the night under the bed in his hotel room. During the day besides taking photographs, he searched for information about the places and the lives of the people in his images.
The book is dedicated to Porfirio Díaz, it contains 391 photographs, and each has a detailed historic review of the life in the photographed place. The size of the book is 31 x 40 cm, it was published at the beginning of 1910, 2000 copies were printed, the print run sold out and a second edition was published in November of the same year, with an additional 2000 copies. All the books were sold out, even my grandfather did not have a copy until a friend gave him one as a present in 1930.
These images are important both for their artistic and technical value, they are also important documents that tell us about an époque that is long gone. These images and text are almost a hundred years old.
When the revolution began, the economic and politic situation of the country became very difficult. The associates of my grandfather no longer cared about their investments. The income from both editions was not even sufficient to pay the printers bills so they kept all the negatives and the stencils. Eugenio didn't make money from this project.
Today it is very difficult to find copies of the Centenary book. In 1985, during the celebrations of 75 years since the revolution, Chrysler published a book where they compared the photographs by Eugenio Espino Barros between 1908 and 1910 with contemporary images taken at the same places and from the same perspectives chosen by Espino Barros.. This publication of the Centenary book motivated the architect Juan Cortina Portilla, a businessman in Mexico City, to reproduce the entire original book which was printed in October 1985. He had printed one thousand copies of the edition which he gave to his friends as a Christmas presents.
In 1911, after his failed business venture with the book, at the height of the revolution, Eugenio decided to travel to the USA, specifically to New York. There, he worked in the studio of a photographer on 5th Avenue.
Eugenio patented the contact printer that he had invented, which allowed him to print 11 x 14 negatives. He offered the patent to "Kodak" and the company offered him to buy it from him if he accepted to work for them. He refused to accept that condition and returned to Mexico.
Eugenio decided to live in Tampico, Tamaulipas, attracted by the prosperity brought by the oil boom. There, he worked for the most important oil companies and he opened a photo studio. In 1919, he married Esther Robles Saldaña, a young girl from San Luis Potosí. While living there they had five children, all boys, Rafael, Enrique, José, Eugenio and Manuel.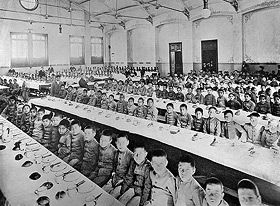 Orphan´s asylum, Mexico City
In 1929, Eugenio moved to Tuxpan, Veracruz, where he installed a photo studio, in front of the main square of that small village. His daughter Esther was born there. In Tuxpan, he continued working for the oil companies and he took photographs of the surroundings countryside and communities.
In September 1930, attracted by industrial growth, he decided to move Monterrey, Nuevo León where he lived on the outskirts of the city and he created a company, which he called, "Los Panoramas de México" (Mexico's Panoramas).
In the early 60's, he returned to Puebla, his home town, where he worked for two important companies; Hylsa and Volkswagen, and for the photography department stores "American Photo" making photomurals for them. Among the landscapes that he made for "American Photo", were images of Popocatépetl and Iztacíhuatl volcanoes, Taxco and Acapulco.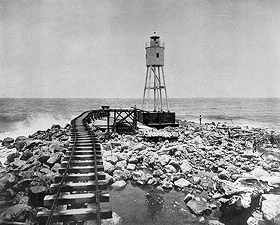 Las Escolleras , State of Tamaulipas
Volkswagen was developing its assembly plant in Puebla and the company hired Eugenio to take the photographs of all the production departments of the company. These photomurals were sent back to Germany by request of the company. He also made photomurals of the plant in Hysla.
During those years, Eugenio lived in Puebla and Monterrey, but in 1974, he went back to Monterrey and stayed there for the remainder of his life. In 1975, he received the Fellowship medal from the Professional Photographers of America, who recognized Eugenio's artistic and technical abilities. He also received the title of "Master" given by the Sociedad Mexicana de Fotógrafos Profesionales (Mexican Society of Professional Photographers), becoming the first photographer to receive the honor.
Eugenio was a good observer, a perfectionist and he was creative. He preferred to design his own equipment rather than be dependent on what was available. He built everything he used, such as his portable 5 x 7 and 8 x 10 cameras as well as a special one for 16 x 20 negatives. He built an enlarger for these 16 x 20 negatives that could project horizontally and a semi-automatic printer for negatives up to 11 x 14. He built a special tripod for his largest camera that required height and for his darkroom, he, built a desk to develop, wash and fix his photographs, it was 70 cm wide and 2.50 m length. The surface was a wooden grid, where the developer, stop bath, fixing and washing trays were placed, so that the spilled liquid could collect in a drainage tank. Along the desk, there were four taps, which supplied the various liquids to each tray. He called this desk his "marimba" because of its similarity to the musical instrument. The desk was made from Sabino wood.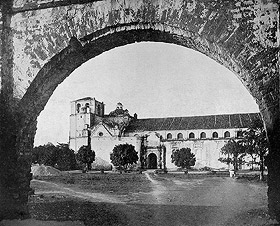 Chiapa de Corzo, State of Chiapas
In order to print his postcards, he developed a system of wood and laces, where the postcards were placed and the laces separated them. This system had capacity to hold 100 postcards at a time. In this way, the postcards could be fixed and washed automatically. Four of these devices could be inserted into these specially designed tanks. He created a similar system for his 5 x 7 and 8 x 10 images.
He also created a system that could dry 100 postcards at the same time in canvas plate holders. On each corner of the first plate holder a post was placed, in order that another plate holder can be placed on top allowing up to ten of them to be placed together drying a total of 1000 postcards.
All the film, photographic paper and additional materials was shipped from ILFORD in England as he could not buy the materials he required in México, especially for his mural photography (2 x 2.5 m) which he projected horizontally with a special roll system he had created. He also created special developing trays for these photomurals.
The photographer owned a great collection of lenses of all sizes and focal distances; mainly he liked angular lenses, which he used to photograph buildings in places where he had a limited amount of space and distance to work in. He kept closely in contact with German and English lens manufacturers, importing the lens as he needed them directly from these companies.
At first, he would build equipment for his friends, when they had seen his own darkroom and equipment but as time went by and the demand for equipment increased, he decided to produce it in a professional way and he founded his own company "Espino Barros e hijos S. A." He commercialized all his equipment under the trademark "NOBA".
His son José is the current owner of the company who later made many additional innovations to the original designs at an industrial level. Their products are sold in México and were exported to the United States, Latin America and Germany.
In the house that Espino had built for his family in Puebla, there were spacious rooms where he installed his carpenter's workshop and a photo laboratory equipped to produce his large photo-murals. The photo lab had two complete walls with drainage all along the upper floor with washboards with four taps in each wall, in the centre of the room, there was an enlarger built-in the ceiling, it ascended by a cube that overhung from the second floor of the building. The lab was spacious enough to move the big wooden trays with legs and wheels where he developed, printed and washed his photomurals.
It's important to point out that he also built all the wooden plate holders to mount his murals. In his perfectionist eagerness, he even went to the companies and collated his photomurals.
When the city of Monterrey celebrated its 400th anniversary part of Espino Barros' work was exhibited in the MARCO Museum. In the exhibition, his stair-tripod was presented.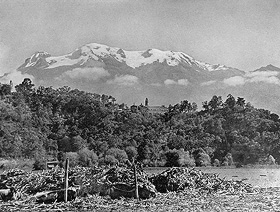 Amecameca, State of México
Eugenio Espino Barros, my grandfather died when he was 95 years old, on August 1978, in Monterrey. He never stopped photographing. He was a visionary man. He possessed a keen wit. He was always in excellent health; he was a disciplined and practical man; he had refined manners and was a pleasant conversationalist; he spoke English and French. He enjoyed good meals; he also enjoyed Puebla's traditional food, sweet bread, good wines and cheeses.
Eugenio Espino Barros enjoyed classical music and opera. He left, as a heritage for his descendants, his love and dedication to photography.