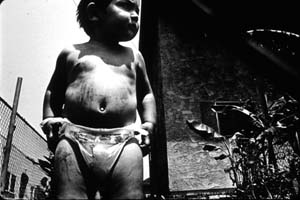 Child of a gang family looks on. Boyle Heights, 1993.
The night of a truce in East L.A., seconds after a drive-by shooting,
a gang member is hit by an automatic weapon. Other gang members
not yet aware of what has happened. Still conscious, the victim bleeds
on the sidewalk. Boyle Heights, 1993.
---
1,
2,
3,
4,
5,
6,
7,
8,
9,
10,
11,
12,
13,
14,
15,
16,
17,
18,
19,
20