I must admit that I am more than just a bit puzzled by the survey we have been conducting here in ZoneZero regarding the expectations our audience has, regarding how long film will be around. By a considerable margin (60%), most of you have considered that film will be around forever. So let us look at some of the facts that tell us exactly the opposite.

But before we go there, let's first define some of the terms we are using. When I hint at the idea that film will not be around for very long that does not mean that I think film will vanish from the face of the earth, without a single roll being available after an imagined date. No, film will probably be made as long as there are a large enough number of cameras around that need film to operate, while still being profitable to produce by someone. But, when the consumption numbers start to dwindle (as they already have started to do) rest assured that the diversity and options of available film will begin to disappear dramatically. Remember those who produce film, do so solely to make a profit. If their incentive tends to dissipate, no more film. That simple.

The second important aspect to define is that the issue is not a cultural one, as many of you would have it. Although we have produced up to now cultural goods with the use of film, the defining reality for the future of film is strictly a market and business decision.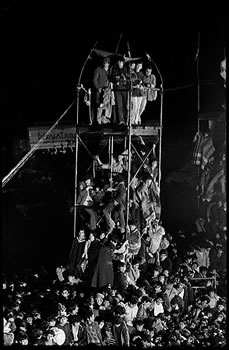 Pedro Meyer © 1971 Avandaro Festival- Mexico
If this is the case, we need to look in the right place to evaluate such a future for film. We would do well to stop viewing these matters from the romantic and nostalgic perspective of something that we had gotten used to using. Where, some view these issues with a strong passionate attachment. But think about it, even if you love film, if sufficient numbers of people take to digital photography as the numbers tell us, film is not going to be around forever. Isn't VHS on the way out also, replaced by DVD's?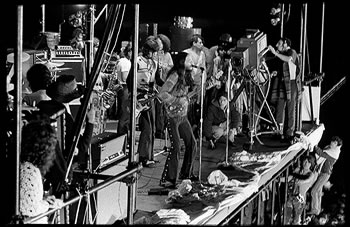 Pedro Meyer © 1971 Avandaro Festival- Mexico
The movie industry is moving in the direction of replacing film with digital solutions to supply their theaters with the needed materials for projection. Instead of sending expensive cans of films to thousands of theaters, to which one needs to add the cost of transportation, let alone the logistics of having the films in the right place at the right time, etc. As soon as some theater chains start to make the transition to digital, the flood gates are opened, because for the most part the technology is already there to have such digital transmission. We are also getting news daily of new feature length films that are being shot entirely with digital cameras and no more film.

The medical establishment is also moving away from film based x-rays. All this would leave as the main outlet for film, the amateur photography market. Needless to say, the professional market all together worldwide is really a trivial consumption number for film manufacturers, that is, compared to that of amateurs. You already have seen how ID pictures have been replaced by Polaroid offerings, which in turn will be replaced by inkjet solutions and digital cameras. School yearbook pictures, a big industry throughout the world, is going digital as well. Then we have most major newspapers also through out the world moving into the digital realm.

This last year digital cameras have outsold for the first time ever, film-based cameras. The turf for film based cameras that used to be still photography, has now also been invaded by digital video cameras, which double up as still cameras while allowing us to make video as well.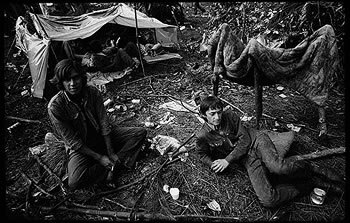 Pedro Meyer © 1971 Avandaro Festival- Mexico
The technology to replace film is advancing at an ever increased pace, so much so, that new digital camera models are rolling out faster than we can read the manuals of how to use them. There is not a single traditional camera manufacturer who has not been getting their feet wet in the river of digital cameras coming out of everywhere, it seems that today the camera industry is no longer defined by the traditional film based camera makers of yesterday. You have new names such as Sony, Hewlett- Packard or Epson, making cameras, just to name a few. Minolta, one of the world leading camera manufacturers just announced that they are moving all their R&D (research and development) money from their APS ( Advanced Photo System) film based technology over to digital, because that is where they see the future.

Who would have thought that the market valuation (the total amount of shares outstanding by a certain company, multiplied by the market price of those shares at a given time) of that venerable bastion for the production of film, called KODAK, is lower than that of Apple Computer, Inc. With these numbers the market is telling us that the future for Kodak is much less promising than that for Apple. Historically the leader in one era does not lead the charge into the next one. So far Kodak has fumbled from one digital solution to the next, as they never really wanted to embrace with much enthusiasm a future that would cannibalize their previous breadwinners. One might have empathy and understanding for their predicament, but the competition is relentless and unforgiving. If the issue were up to Kodak alone, I am sure there would be film forever, but they are not the only ones defining such a reality, thus we have to look at the larger picture.

We have to ask ourselves if we will be well served or not by these projections. Obviously the photographers who love film will never agree that this possible demise of film is anything other than a disaster.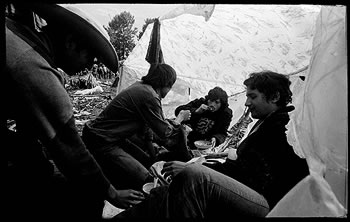 Pedro Meyer © 1971 Avandaro Festival- Mexico
I have been working now with digital solutions for the past fifteen years, and all I can say is that I am mesmerized, every day anew, at the potential and the unending array of possibilities that accrue to those who have taken the leap into the world of digital production. The last time I used my darkroom was 12 years ago, and have never had to look back a single day.

A University that is reorganizing their facilities to teach photography to 400 students approached me recently. They wanted to know how best to set up their traditional dark rooms. I looked at them, and asked whom are these students going to work for when they get out of college in 4 years? Because I want you to know that the number of places where they can go to work after they graduate, that will still be using the traditional methods of production is going to slowly disappear. How can you in good conscience train them with technologies that are no longer going to be used? Was my question to them? They got the message, and will probably move over to digital technologies because they need to train people for the future not the past. Think of the advertising world, the printing industry, newspapers, editorial industry, news media, they are all going digital.

So how long will film be around? I don't envisage for very long, if you think of the new FOVEON technology that has just been brought to market with chips that offer even higher resolution than film, and doing so at prices almost to the level of the consumer market. Even Kodak has singed up for these new chips, to introduce them in their line of cameras.

So do yourself a favor, if you haven't already done so, start exploring with digital cameras.

Don't worry if this is the right time, or if it is better to wait for a better camera later on, rest assured that the moment you bought any new digital camera it was already obsolete the moment you purchased it, you cannot get ahead in this game. What you can do is get ahead in your own game, and that is to learn as fast as possible all that these new technologies have to offer. You will have much to gain from doing so.

I just finished printing some images that I took during the first Woodstock like Rock Festival we had here in Mexico, 31 years ago (the pictures in this editorial belong to this body of about 50 images). This work has never been seen, because when I took the pictures at the time, all I could afford to use was bulk film. Unfortunately that process, scratched the film while loading it into the canisters that would go into my camera, I had some interesting images, but the negatives were unusable to print from because of those ugly dark lines running across the entire picture. In addition some of these negatives were over exposed or under exposed, (we then worked with no automatic exposure meters). They were unusable as I wrote, that is, until today when with digital technology none of these problems mattered any more and I could salvage all that work.

Please share with us your points of view. I am sure you will have much to contribute to this debate.

Pedro Meyer
Mexico City
February 2002

---




For comments post a message in our forum section at ZoneZero.

Pedro Meyer © 1971 Avandaro Festival- Mexico