"The Coffee Harvest" by Marco Antonio Cruz
---

At the Yajalon, Chiapas prison a Tzeltzal indian is
held for problems with his land.
---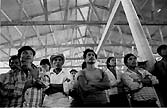 Meeting of Tzeltzal indians to demand the release
of what they consider political prisioners.
---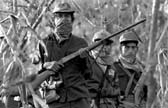 January 1st, 1994, Ocosingo, Chiapas.
Zapatista National Liberation Army (EZLN) is first heard off.
---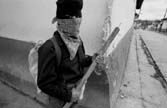 A young woman pertaining to the EZLN in
the ceased Municipality of Altamirano, Chiapas, Mexico
located in the midst of the coffee growing region.
---