"The Sword and The Cross"
by Diego Goldberg
---

"Store and Christ images"

Christs at one the of many stores that sell religious items round the Virgin of Guadalupe sanctuary in Mexico City.
---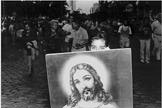 "Eyes"
Child and Christ during a
pilgrimage in Buenos Aires.
---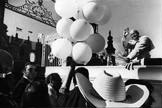 "The Pope"
The Pope in Mexico.
---