Let's begin, safely, with an idea. An idea about a cataclysmic fuck, Mexico's big bang.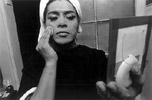 Half a century ago, Octavio Paz wrote of the "masks" Mexicans have crafted over time, mythic identities whose function is to hide the trauma of "la chingada " (from the verb chingar, "to fuck," literally and figuratively), that is, the Conquest, which was essentially a sexual act –the rape of native by conquistador, from which modern Mexico's mestizo identity was born. Not suprisingly, the most common, and powerful, of the Mexican masks are sexual ones.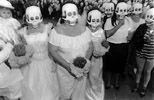 The "macho" (hard-working, hard-drinking, hard-fucking) was necessary for Mexican men to regain some sense of manhood after la chingada. Likewise, the obsession with virginity imposed upon, and internalized by, Mexican women was a way to purge the memory of primordial rape.



The Catholic Church, true to its nature as a brutally patriarchal institution, played an important role in the formulation of this construct. But in the end, a mask is just a mask –it does not alter what lies behind it, although it can create a tension between myth and essence that results in comic, tragic, and downright surreal acting-out.