The Getty Museum, Trust Project
Digital photography is replacing traditional photography. And it's happening so fast that traditional photography, and the knowledge about how to create it, is in danger of disappearing altogether. We need your help.
Scientists at the Getty Conservation Institute need your old photographic papers, film, negatives, and prints to build an archive of knowledge and materials from the era of classical photography. This archive will become a reference collection for future generations of photo conservators and scholars, and will allow them to research and authenticate the treasures of the classical photography era.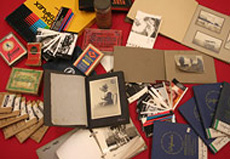 Some of the 20th-century prints and photographic paper samples recently donated to the archive. Photo: Annelisa Stephan.
Surprisingly, the large photography companies—Kodak, Ilford, Fuji, Polaroid, and Agfa—did not save samples of the hundreds of different films and papers they developed over the last century. We're hoping that you did.
What you can do
Send us samples of photographic paper and plates, film, negatives, sample books, and dated photographs. We need examples of all types of materials from every year since 1827. So, send us the box of Kodak Elite paper that might be collecting dust in your attic, that Foma film from 1985 that you think you'll never use, or the extra photographs from your 1988 (or 2006!) trip to Yosemite that didn't make it into your photo album.
We need samples that are dated and include the manufacturer's information. Even damaged materials are useful to us if they are stamped with a date and have the manufacturer's name or logo stamped on them.
Below are some examples of materials to send.
• Photographs—don't send us your family treasures; send the extra copies and rejects.
• Please only send photographs that have a date and/or manufacturer's name or logo printed on them.
• Instant photographs from Polaroid, Kodak, or other manufacturers.
• Unexposed film in the original canisters—black-and-white, color, and Polaroid. If you have the original packaging, send that too!
• Unexposed photographic papers—ideally in the original box. If you have an unopened box you can part with, this is especially helpful.
• Exposed photographic papers, including prints, contact sheets, and contact prints if they include a date and manufacturer's name or logo.
• Film, sheet, or glass-plate negatives, and transparencies.
Still not sure if you should send us your materials? Read our Frequently Asked Questions, below. Think you have something really unusual? See a list of the highly-sought materials we're looking for.
How to send
Send materials to the Getty Conservation Institute at the following address:
Project in Conservation of Photographs
Getty Conservation Institute
1200 Getty Center Drive
Suite 700
Los Angeles, CA 90049-1684
Before sending materials, please read our Legal Disclaimer.
Please include your name and a return address with your donation.
We will send you an acknowledgment once we receive your donation and will also add your name to a list of contributors that will live in perpetuity with this important archive. Let us know if you do not want your name added to this list.