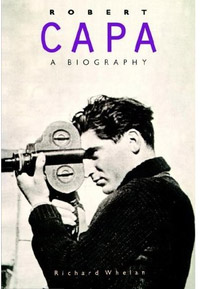 Besides Robert Capa, Whelan's biographical subjects included Alfred Stieglitz. He also wrote the book on Robert Capa's brother, Cornell Capa, the photojournalist and founder of the International Center of Photography in New York. Whelan was also the consulting curator of the Robert and Cornell Capa Archives at the ICP and a longtime faculty member at the ICP school.

At the time of his death Whelan was working on two new projects for the ICP. One was an exhibition of Capa work based on new research. He was also working on a show about Gerda Taro, Capa's lover who was killed in Spain.
For most of us who love the history of photography, Whelan's crowning achievement was his book "Capa: A Biography." In Whelan's hands, Capa's life came off as both epic and intimate, the story of an extraordinary man as well as a story about the meaning of history and art.