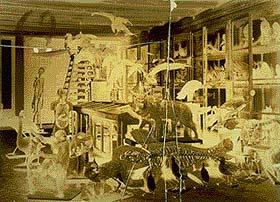 Dr. Ameisenhaufen's laboratory in 1927
He gave lectures on zoology and scientific ethics. Despite his young age of twenty-six, he had acquired an astonishing amount of knowledge. He had at his disposal a private laboratory which, to my knowledge, no one was permited to enter. (...) His considerable library included a number of rare volumes which, however, he hardly ever wanted to show to visitors (...) I deeply regretted his dismissal and believe to this day that it was precipitate. Some volumes from the library mentioned above by Fischer have been preserved; they were taken into safekeeping by his sister after the professor was declared missing in 1955. Aristotle, Celsius, Paracelsus, Servet, Paré, Leibnitz, Burton, Lamarck, Bates, and Darwin clearly were among the authors Ameseinhaufen prefered to study.


Of particular interest are some valuable first editions, for example, a copy of Cosmographia, das ist: Beschreibung der ganzen Welt by Sebastian Münster from the year 1628 or Des Monstres et Prodiges by d'Ambroise Paré (Paris, 1585). Beyond doubt the most interesting objects in this part of the estate are the handwritten notes that presumably belong to the first draft of the famous work Structure and Life of the Rhinogradentia, and which indicate a personal relationship between Professor Ameisenhaufen and Dr. H. Stümbke - a hypothesis supported by, among others, entries in the professor's journal which allude to the Aie-Aie-Aie Archipelago.